Shortly after Zig Ziglar's 85th  birthday, Zig's last audiobook BORN TO WIN hit the bookshelves of stores worldwide. It's truly a fitting hallmark of an exceptional life by this beloved motivator.
In this free download, you will discover Zig's simple 3-step formula for living a life set-up to win.  Sign-up below to instantly download a 52-minute segment of this Amazon Best Selling audiobook.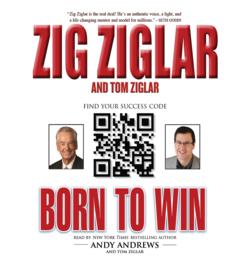 In the thought-provoking  Born to Win audiobook, you will hear Zig's friend and best selling author Andy Andrews perform Zig's incredible book on setting-up a life of purpose.
Name*
Email*
Company
Phone
* Required Fields
Submit your information to instantly download the MP3 audio of Chapter 1 of this life-changing audiobook.