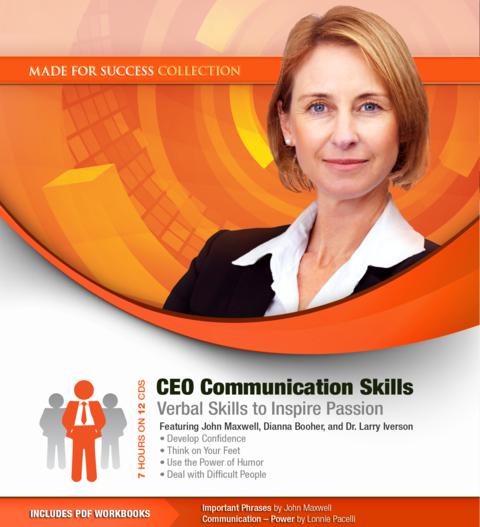 CEO Communications Skills: Verbal Skills to Inspire Passion
Includes 12 audio CDs and two bonus PDF workbooks
If you want to influence, persuade, or inspire your team, clients, or a room of colleagues, you need to be a skilled speaker. Are your communications skills up to par? Can you think on your feet and deliver a compelling message at any moment? Learn how to deliver presentations, lead meetings, and communicate the company vision with ease and confidence, speaking in a compelling manner that arrests attention and makes people want to follow you.
Use the time-tested strategies in this audio collection from America's leading communicators and bestselling authors to learn and practice your skills. Your words matter, as does how you carry yourself when you speak. When you communicate your vision with passion and fire, you will move people into action.
Some people say communications skills are essential to your business success, but advance skills are rarely taught in schools and universities. Now you can learn at your own pace at a time that's convenient for you, while you commute or workout. Understand how you can become a "leader manager" and advance your position in the workplace.
Featured Authors:
JOHN C. MAXWELL, known as America's expert on leadership, speaks in person to hundreds of thousands of people each year. He has communicated his leadership principles to Fortune 500 companies, the United States Military Academy at West Point, and sports organizations such as the NCAA, NBA, and NFL. The New York Times bestselling author has written more than thirty books, including Winning with People and Today Matters. Two of his books, Developing the Leader Within You and The 21 Irrefutable Laws of Leadership have each sold more than one million copies.
DIANNA BOOHER is an industry expert on subjects such as public speaking, interpersonal skills, and customer service and has worked with many Fortune 500 companies.
For nearly thirty years DR. LARRY IVERSON has educated, motivated, and entertained audiences. From his work with Olympic and world-class athletes to the main platform of Fortune 500 conferences, he delivers persuasion and communication strategies you can apply right now.
$32.95