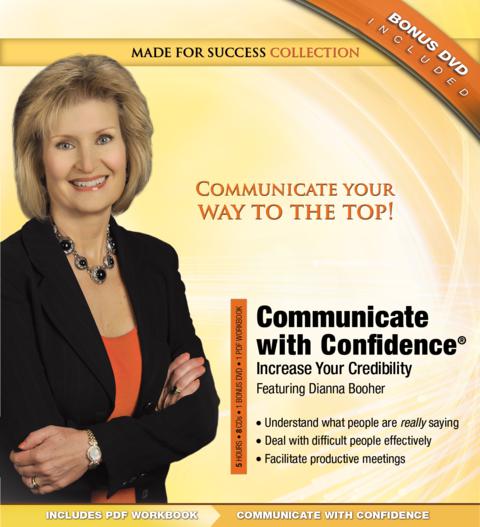 Communicate with Confidence: Increase Your Credibility
by best selling author Dianna Booher
Includes 8 audio CDs and 1 Bonus DVD

Communication is the basic business act.  Nothing happens to move a project, a partnership, a sale, a deal, or a relationship forward without communication.  Your career success and your business or personal relationships are the result of all your interactions and communications stacked end to end.  In this series, you'll learn to:
• Listen with understanding to the real messages others are sending you
• Resolve conflict with clients and coworkers so that everyone can focus on their goals
• Deal with difficult people with practical, proven techniques so they don't sabotage your success
• Build rapport to strengthen your credibility, relationships, and sales success
• Lead and participate in productive meetings that result in sound decisions and clear action–while saving time for everyone
• Communicate across gender lines to deliver a clear message while accommodating the opposite gender's communication style
Content Includes:
• Listening Until You Really Hear
• Resolving Conflict with Class
• Dealing with Difficult People
• Building Rapport to Achieve More
• Making Your Meetings Matter
• Communicating Across Gender Lines
DIANNA BOOHER is the prolific author of forty-five books, published in twenty-three countries and sixteen languages, including Creating Personal Presence: Look, Talk, Think, and Act Like a Leader and The Voice of Authority: 10 Communication Strategies Every Leader Needs to Know. Successful Meetings magazine has named her one of the "21 Top Speakers for the 21st Century." Booher Consultants, Inc. offers communication training: oral, written, interpersonal, and organizational. Clients include 227 of the Fortune 500.
$32.95