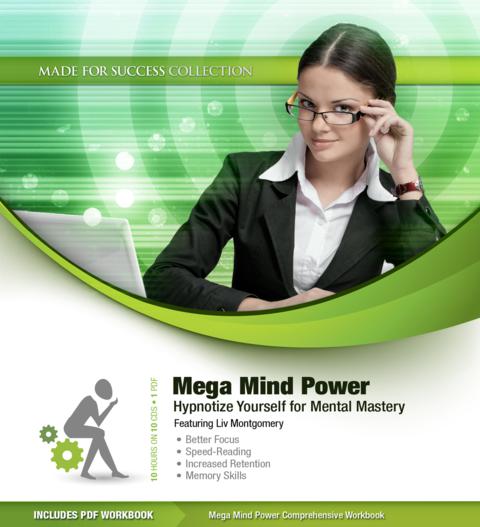 Relax yourself to a state of higher mental performance!
Could you use an extra boost of brain power? This breakthrough audio program is designed to help you get your mind into an enhanced learning state through an easy to use system. This scientifically proven process will help you increase receptiveness to learning new information, recall facts, focus, and understand new concepts. Whether you want to better remember where your car keys are or read faster, this mind performance system will take you on a journey of discovery to tap the latent part of your brain using hypnosis and mind music for relaxed study to help you learn fast.
Kept lively and entertaining by certified hypnotherapist Liv Montgomery, this product includes a hypnosis program, instructional audio, and relaxing music embedded with binaural beats to help your mind take in new information. Proven safe through decades of use, binaural beat frequencies help you attain a highly focused state. Get it now!
$34.95

Tips for using the hypnosis programs in the MegaMind Mind Power System
The author recommends listeners focus on one of the five memory programs for 3 weeks until you get the desired result. You can also stack 2 or 3 programs together and listen to them morning and night for 3 weeks to achieve your result quicker.
If you're new to using binaural beat technology for rapid learning, start with a half-hour to an hour a day for the first few days or a week. See how you react to the changes going on in your neurological pathways. Eat lots of protein, take B vitamins in the morning, and drink plenty of fluids during this time. Get extra rest. You're building new brain cells! As you become familiar with your own response to the technology, you can gradually increase your usage of the audio programs.
You want to keep your listening duration to about 2 or 3 hours a day. Use some restraint, as this program is designed to be fun, relaxing, and rewarding. You're working with some extremely sophisticated techniques.
Take your time with this program. The results you get will last you a lifetime. Don't be in a hurry. If it takes you a full year to improve your memory, increase your focus, catapult your reading speed, increase your conceptual ability, wouldn't it be a year well spent? Personally I think so. If you did all that in 3 weeks, your dog wouldn't know you and your boss would fire you as an imposter. Seriously, you're going to see some changes in your life as a result of using these programs. Be aware of that, and pace yourself.