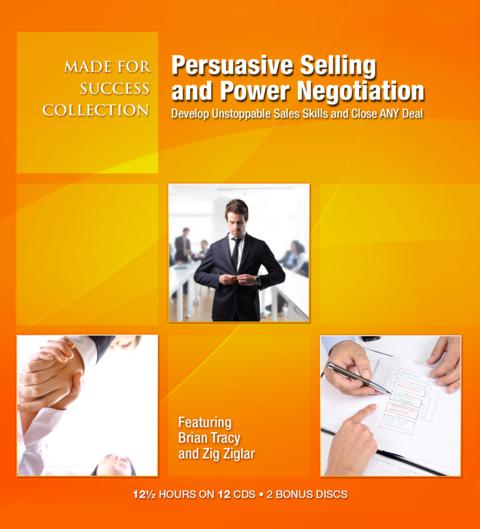 Persuasive Selling and Power Negotiation:  Develop Unstoppable Sales Skills and Close ANY Deal
Featuring authors Brian Tracy, Zig Ziglar, Chris Widener and Dr. Larry Iverson
Did you know that everything is negotiable? Unfortunately, most people are poor negotiators, and the number one reason why can be traced back to early childhood. This audio series can help you change that.
Whether you are trying to influence or negotiate with your largest client, boss, spouse or even one of your children—you need to be skillful.
Do you think it might help to be better at reading body language? Would it be beneficial to know how to overcome the most frequently occurring miscommunication problem? Would knowing exactly how someone can be persuaded, be helpful in your interactions?
Well now you can! Listen as the experts reveal their secrets so you, too, can succeed.
Includes 12 audio CDs, a Bonus DVD And CD with PDF Workbook
Contents include:
The Answer is Always No if You Don't Ask – 7 Strategies for Negotiating Your Way to YES!by Colette Carlson
Selling Higher-Priced Products against Lower-Priced Competition by Brian Tracy
Negotiate the Best Deal by Brian Tracy
Darkest Secrets of Persuasion & Seduction Masters  by Tom Marcoux
The Six Laws of Approachability: How to Break Down Barriers and Get People to Like You by Laura Stack
Negotiating for Long-Term Loyalty
Mastering Price Negotiations by Dr. David Palmer
The Secret to Persuasiveness — How to Get What You Want by Dr. Larry Iverson
Communication and the Art of Persuasion by Jim Rohn
How to Influence People with Powerful Communication: 30 Minute Success Series by Brad Worthley
Selling Beyond Your Own Style by Jennifer Sedlock
DVD: Zig Ziglar Sales Mastery System
BRIAN TRACY is one of the most respected speakers, teachers and trainers in the world today. He has given more than 5,000 seminars and workshops in fifty-five countries on the subjects of sales, wealth creation and goal setting. He is the author of more than 400 audio/video learning programs and has written fifty-two books that are published in thirty-six languages.
TOM MARCOUX helps people accomplish big dreams. Tom guides audiences (IBM, Sun Microsystems) on job interviewing, public speaking, media relations, and branding. With a degree in psychology, Tom guest lectured at Stanford University and California State University. Winner of a special award at the Emmys, Tom directed and produced a feature film at the Cannes film market, and the film gained international distribution.
LAURA STACK, MBA, CSP is a personal productivity expert, bestselling author, and professional speaker whose mission is building high-performance productivity cultures in organizations. She is the president of The Productivity Pro®, Inc. and the 2011-2012 President of the National Speakers Association. She has been a spokesperson for Microsoft, 3M, Xerox, and Office Depot.
COLETTE CARLSON is a professional speaker, author, and communication-skills expert that encourages women to speak their truth; to say what they mean and mean what they say to save themselves time, money, and sanity.
JENNIFER SEDLOCK is an inspiring keynote speaker who moves audiences to action. She gets to the heart of the issues while laser focused on helping people achieve their desired results. With a bachelors degree in Business Administration from UC Berkeley, and a master's degree in Organization Development from USF, Sedlock's resume includes management and corporate training positions prior to speaking across the country on communication, leadership, and teamwork. As a Myer's-Briggs® trainer and women's event speaker her company Jennifer Speaks! is helping thousands of people make choices and changes that will impact the rest of their lives.
BRAD WORTHLEY is an accomplished consultant and behavior-change specialist with over 30 years of business management experience. He is also an internationally acclaimed leadership, customer service, and motivational expert.
DIANNA BOOHER is an industry expert on subjects such as public speaking, interpersonal skills, and customer service and has worked with many Fortune 500 companies.
For nearly thirty years DR. LARRY IVERSON has educated, motivated and entertained audiences. From his work with Olympic and world-class athletes to the main platform of Fortune 500 conferences, Larry delivers persuasion and communication strategies you can apply right now. Larry blends vision with his background as a Clinical Psychologist in guiding you on an insightful journey, while you develop insights that assist your personal development. Larry masterfully uses enthusiasm and humor to help you gain control in your life.
ZIG ZIGLAR, world renowned author and speaker, has an appeal that transcends barriers of age, culture and occupation. Since 1970, he has traveled over five million miles across the world delivering powerful life improvement messages, cultivating the energy of change. Mr. Ziglar has written twenty-three celebrated books on personal growth, leadership, sales, faith, family and success. Nine titles have been on the bestseller lists; his books and tapes have been translated into over thirty-eight languages and dialects.

$32.95