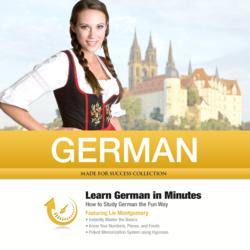 Learn how to study German for rapid mastery of the basics. Imagine if you could instantly build your foreign language skills—and have fun at the same time. Now you can!
The Verbalicious Instant Language series takes a fun, entertaining approach to learning German. With Liv Montgomery as your verbal tour guide, you'll learn how to study a foreign language with her special speed-learning techniques.
Soon you'll be able to converse in German like a native about dining, travel, and even medical needs. Build your vocabulary and confidence almost effortlessly with Verbalicious Instant Language German in Minutes. Where other foreign language programs may bore you to death with practice drills and a monotonous teacher who drones on and on, Verbalicious takes a playful, interactive approach that's proven to be more effective.

Imagine how confident you'll be on your next trip. Learn German the fun way—with Verbalicious!
FEATURING LIV MONTGOMERY:
Laugh while you learn! Liv Montgomery takes a fun, entertaining approach to coaching and consulting for today's busy entrepreneur. Liv has spent more than a decade developing the proprietary training methods she uses to produce quantum results for her clients. As a small business consultant, Liv knows how important it is to grasp information quickly, to be understood and to command respect. Liv's background in big-time media production combined with her experience as a certified Life Coach and Hypnotherapist create a unique chemistry that's like rocket fuel for the mind.
Just $19.95 for this 3 Audio CD Collecction