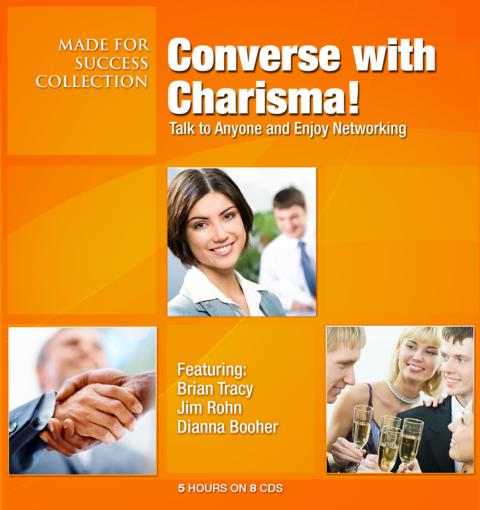 NEW AudioBook Mobile App Download
How to Talk to Anyone and Enjoy Networking featuring Jim Rohn, Dianna Booher, Brian Tracy & more in this powerful 8-part Audio Series.
This audiobook is packed with 5 hours of expert training on how to converse with confidence, with viewpoints from 8 leading authors on communication skills.
Have you ever been to a party or a work function where you don't know a soul in the room? Learn how to strike-up a conversation with anyone and be the hit of the show!
Anyone can master the art of business networking. This audio series is packed with resources to help you learn to think on your feet, overcome anxiety and work the room like a polished professional. Whether you need to learn small talk or networking, this series will teach you the actionable skills to attain your business goals at any networking event, cocktail party, dinner or company outing. This series will equip you to unlock your hidden potential to network with ease and grace. The self-study program lets you learn at your own pace, during your commute, in the gym or in the comfort of your home.
•    Be an entertaining conversationalist
•    Overcome anxiety meeting new people
•    Learn to network with ease and grace
•    Think on your feet
•    Be entertaining and funny
•    Speak to anyone, anywhere!
The world's leading experts on Communications, bestselling authors and award-winning speakers share their secrets to conversation skills:
1.    Conversational Charisma by Brad Worthley
2.    Communication – The Master Skill to Powerful Relationships by Brian Tracy
3.    Speak with Confidence – Thinking on Your Feet by Dianna Booher
4.    Effective Communication Skills by Marjorie Brody
5.    Communication Skills to Influence by Chris Widener
6.    Networking Events by Lorraine Howell
7.    Communication and the Art of Persuasion
8.    Networking Effectively by Colette Carlson
About the Authors
BRIAN TRACY is one of the most respected speakers, teachers and trainers in the world today. He has given more than 5,000 seminars and workshops in fifty-five countries on the subjects of sales, wealth creation and goal setting. He is the author of more than 400 audio/video learning programs and has written fifty-two books that are published in thirty-six languages.
BRAD WORTHLEY is an accomplished consultant and behavior-change specialist with over 30 years of business management experience. He is also an internationally acclaimed leadership, customer service, and motivational expert.
DIANNA BOOHER is a prolific author of 43 books in more than 25 languages, including The Voice of Authority and Speak with Confidence.  Successful Meetings magazine has named her to its list of "Top 21 Speakers for the 21st Century."  Booher Consultants, Inc. offers communication training: oral, written, interpersonal, and organizational.
CHRIS WIDENER has shared stages with top political figures and professional athletes, share with you the secrets he has shared with executives at G.E. and Harvard Business School.
LORRAINE HOWELL built her expertise as a communications expert and author as a television news and talk show producer. She coaches top executives and professionals on how to be more effective when speaking to the media or making public presentations.
COLETTE CARLSON is a professional speaker, author, and communication-skills expert that encourages women to speak their truth; to say what they mean and mean what they say to save themselves time, money, and sanity.
8 Audio CDs, only $19.95 ($2.50/program)