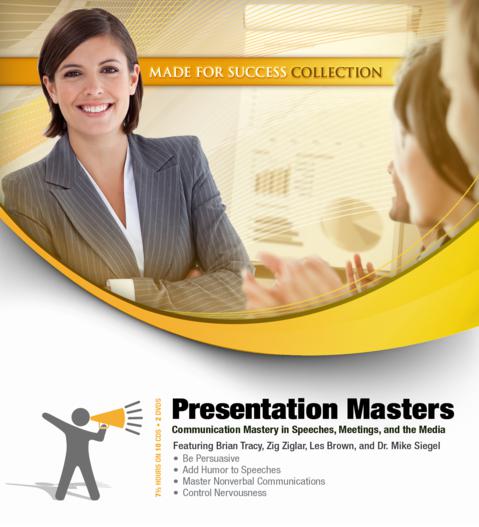 Finally, a comprehensive resource to help you master speaking techniques and more. Learn from the world's legendary professional speakers as they teach you how to tell your story, deliver a public speech, combat stage fright, control non-verbals, and persuade an audience. Even with the most difficult speaking subjects, learn how to use humor, quotes, and statistics to highlight a point. These techniques are not theory, but are fact-based and used by speakers who earn six digit speaking fees, including two of the top ten speakers worldwide! You'll be confident, competent, and composed for your next presentation.
Enjoy this self-paced audio series from eleven masterful professionals as they share their unique perspectives on success from the podium. Even the smallest details are important, from structuring your talk, creating handouts, arranging seating, and setting up microphones.
Let this audio series help you inspire others in meetings, training sessions, sales presentations, facilitation, mass communication venues, and even podcasts. Discover how all these techniques come together while enjoying Zig Ziglar's legendry delivery of "How to Stay Motivated." As a result, these easy to use techniques will guarantee success in changing minds, dominating media appearances, and sharing your greatness with the world through better communication.
$32.95