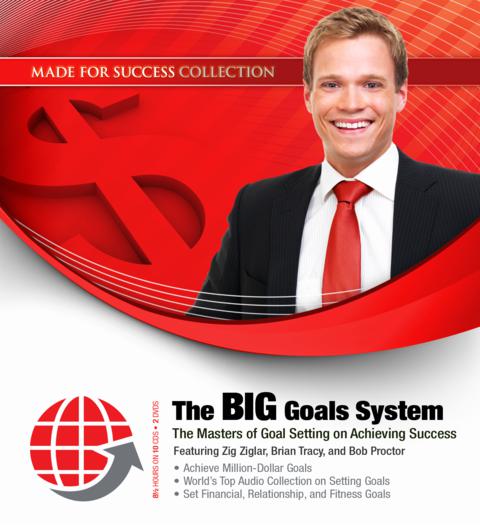 The BIG Goals System: The Masters of Goal Setting on Achieving Success
Includes two bonus DVDs!
Featured authors include Zig Ziglar, Brian Tracy, Bob Proctor,
Have you noticed that people who regularly set goals are happier and healthier than the rest of the people you know? Understand why this is and how YOU can do it, as Zig Ziglar guides you through one of the world's most popular goal achieving systems.
This Goals product is a collection of goal achievement programs from the leading experts on the subject. According to Brian Tracy, the top 2% earners from Harvard Business School are goal setting masters. With Brian Tracy's proven goal achieving system, you will clearly see how Brian Tracy has achieved multi-million dollar successes in his life.
Life can be a struggle and we often feel like giving-up our dreams. Learn the psychological science of how to overcome all challenges along the path to achievement. Using techniques in this program, you will be able to create boundaries around technology which will help clarify and simplify your life. Get unstuck and abandon your fears to set and achieve Big Goals!
It doesn't matter whether your goal is to become a millionaire or a billionaire or if you just want a bigger house, a nicer car, a better job, a healthier life or a happier relationship. Take advice from billionaire Bill Bartmann, with powerful tools you have been seeking that can transform your life and your business.
Contents include:
1. Achieving Your Highest Vision of Yourself by Laura Stack, MBA, CSP
2. Achieving Greatness by Dr. Larry Iverson
3. Goal Setting and Achieving by Krish Dhanam
4. How to Achieve Your Greatest Desires by Brad Worthley
5. Vision, Plan, Action by Jennifer Sedlock
6. Resilience Scores Goals by Bob Proctor
7. 9 Steps to Achieve Any Goal by Bill Bartmann
8. Set and Achieve Million Dollar Goals by Brian Tracy
9. Set Goals to Get Fit and Stay Trim for Life by Brian Tracy
10. Relationship Goals to Fall in Love Forever by Brian Tracy
DVD:
The Goals Program by Zig Ziglar
Featured authors include:
ZIG ZIGLAR, world renowned author and speaker, has an appeal that transcends barriers of age, culture and occupation. Since 1970, he has traveled over five million miles across the world delivering powerful life improvement messages, cultivating the energy of change. He has written twenty-nine celebrated books on personal growth, leadership, sales, faith, family, and success. Ten titles have been on the bestseller lists; his books and tapes have been translated into over thirty-eight languages and dialects.
BRIAN TRACY is one of the most respected speakers, teachers and trainers in the world today. He has given more than five thousand seminars and workshops in fifty-five countries on the subjects of sales, wealth creation and goal setting. He is the author of more than four hundred audio/video learning programs and has written fifty-two books that are published in thirty-six languages.
$32.95