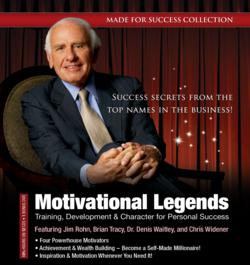 Join Jim Rohn, Brian Tracy, Dr. Denis Waitley and Chris Widener for professional and personal plan development, brought to you by SUCCESS Magazine.
This audio program will play a pivotal role in developing your skills and life philosophy. Millions of people have benefited from the timeless wisdom of Jim Rohn and consider him America's #1 business philosopher.  Add these rare recordings of Jim Rohn to your audio collection and start developing your personal plan for success today.
With Brian Tracy, you will discover what skills you need to develop in order to become a self-made millionaire. Use his timeless wisdom to develop your own personal plan for achieving wealth and success. Subjects include personal leadership, commitment, focus, and achieving extraordinary performance. Join Brian Tracy, one of America's premier speakers on the subject of human potential, as hailed by more than two million people in twenty-three countries worldwide, as he guides you to success.
Experience Denis Waitley's wit and wisdom as he takes you on a journey of personal development. Dr. Waitley, author of The Psychology of Winning, will help you attain the qualities necessary for winning in life, and he will help you learn how to embrace change. Discover that winning isn't just luck—it's something you plan. Denis' pivotal audio programs will help you program your mind to unleash the champion within.
Chris Widener brings the voice of a new generation to this line-up of classic motivators with his message on success.  If you enjoy motivational speeches by the best in the world, this hard-to-find program that is a MUST for your audio library.
$44.95