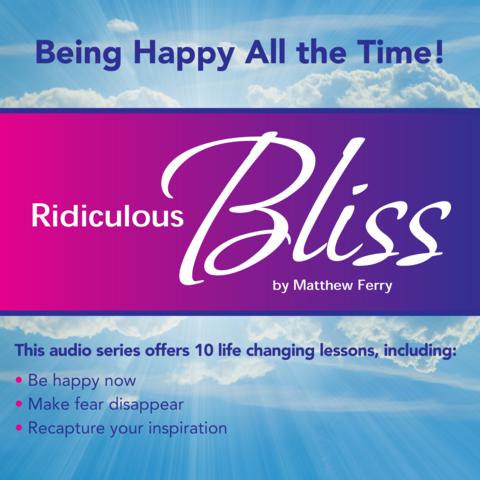 Being Happy All the Time by Matthew Ferry
Includes a bonus DVD!
Eliminate stress and fear and recapture your enthusiasm for life!
How much better will your life be when you feel ridiculous bliss? How much more will you achieve? When you learn to be happy now, it's easy to be inspired. When you learn to be satisfied now, you naturally let go of stress. Life coach to the biggest players in the world, Matthew Ferry teaches street-tested happiness techniques that are easy to implement in your life.
In this life transforming program you will learn:
1. How to eliminate stress completely from your life
2. How to make your fears disappear
3. How to recapture your inspiration and enthusiasm for life
4. How to harness the power of your thoughts to be happy now
5. How to become a magnet for good fortune and attract life changing opportunities
6. How to let go of habits that make you unhappy
If money, family and material wealth won't make you happy, then what will? After personally coaching more than 8,000 people, Matthew Ferry knows exactly what will make you feel happy now. Learn to live in a state of ridiculous bliss and your life will become easy, effortless, and enjoyable. Take the first step towards living a life of ridiculous bliss today.
Contents includes the following 9 CDs:
Ridiculous Bliss in Your Daily Life
Daily Rituals to Achieve Ridiculous Bliss
Ridiculous Bliss at Work
Ridiculous Bliss While Getting Out of Ridiculous Debt
Ridiculous Bliss While Achieving Ridiculous Goals
Ridiculous Bliss with Your Children
Ridiculous Bliss in Your Relationship
Ridiculous Bliss with Your Body
Ridiculous Bliss with Your Parent
Bonus DVD:
Black Belt of Bliss
Matthew Ferry is a revealer, illuminator and awakener whose point of view creates instant transformation in people's lives.  He has coached more than 8,000 people to achieve break through performance barriers and achieve unparalleled happiness and success.  Ridiculous Bliss delivers step-by-step instructions on how to feel happy in every aspect of your life.
$29.95