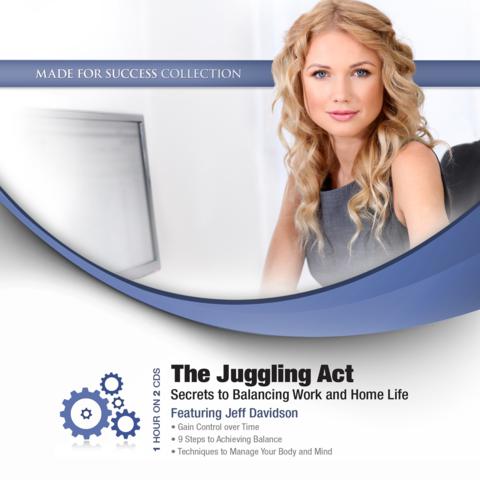 Though many crave it, achieving work-life balance seems to be a goal that eludes most people today. In this hectic world, with so much competing for your time and attention, how do you create a sense of control at work, at home, and at every place in between? In this innovative program, renowned author and professional speaker Jeff Davidson discusses the importance of establishing work-life balance goals, such as identifying the number of relaxing weekends you want to experience each month, determining how much sleep you want to get each night, and targeting your resting pulse per minute. Who's to say you can't establish a goal for your blood pressure as well as your waistline?
Establishing work-life balance goals helps you become a well-rounded career professional who is more effective on the job and has a greater sense of participation and enjoyment in life. Jeff explains the importance of setting goals throughout the day and discusses goals related to great novels, classic or inspiring movies, participation in worthy causes, and more focused family involvement. He also lays out a plan for achieving work-life balance based on lessons in nine categories: breathing, digestion, nutrition, pacing, pausing, leisure, quiet, sleeping, and reflection. In each of these categories, Jeff first discusses the prevailing behavior, the one in which most people engage, and then the desired behavior, the one that leads to a greater sense of breathing space. The result is an invigorating session, unlike anything you've heard.
If achieving a greater sense of work-life balance appeals to you, this audio program will help you get into high gear.
FEATURING JEFF DAVIDSON:
The Work-Life Balance Expert®, has written fifty-six mainstream books, is a preeminent authority on time management, and is an electrifying professional speaker, making nearly eight hundred presentations since 1985 to clients such as Kaiser Permanente, IBM, American Express, Lufthansa, Swissôtel, America Online, RE/Max, USAA, Worthington Steel, and the World Bank. He is the author of Breathing Space and Simpler Living.
$19.95