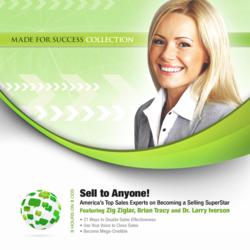 Your ability to prospect and sell depends on your skills in working with anyone.  Two of the world's top sales trainers come together to teach you little known sales traits that are guaranteed to make a huge impact on your sales performance.
First, you will understand from the world's top motivational speaker, Zig Ziglar, how to train your voice inflections to overcome the 5 most common sales objections.   Your voice can make all the difference in phone sales and presentations, and you will learn how to close more sales by controlling your voice.
Brian Tracy will guide you through 21 qualities of top 10% sales performers, with practical and easy-to-implement tips on establishing instant rapport and credibility with your customers.
Work to double your sales effectiveness from the convenience of your car or while you workout with this powerful "must have" series of value-packed audios
ZIG ZIGLAR, world-renowned author and speaker, has an appeal that transcends barriers of age, culture, and occupation. Since 1970 he has traveled over five million miles across the world delivering powerful life-improvement messages, cultivating the energy of change. Mr. Ziglar has written twenty-nine celebrated books on personal growth, leadership, sales, faith, family, and success, ten of which have been on the bestseller lists. His books and tapes have been translated into over thirty-eight languages and dialects.
BRIAN TRACY is the most listened to audio author on personal and business success in the world today. His fast-moving talks and seminars on leadership, sales, managerial effectiveness, and business strategy are loaded with powerful, proven ideas and strategies that people can immediately apply to get better results in every area.
$19.95