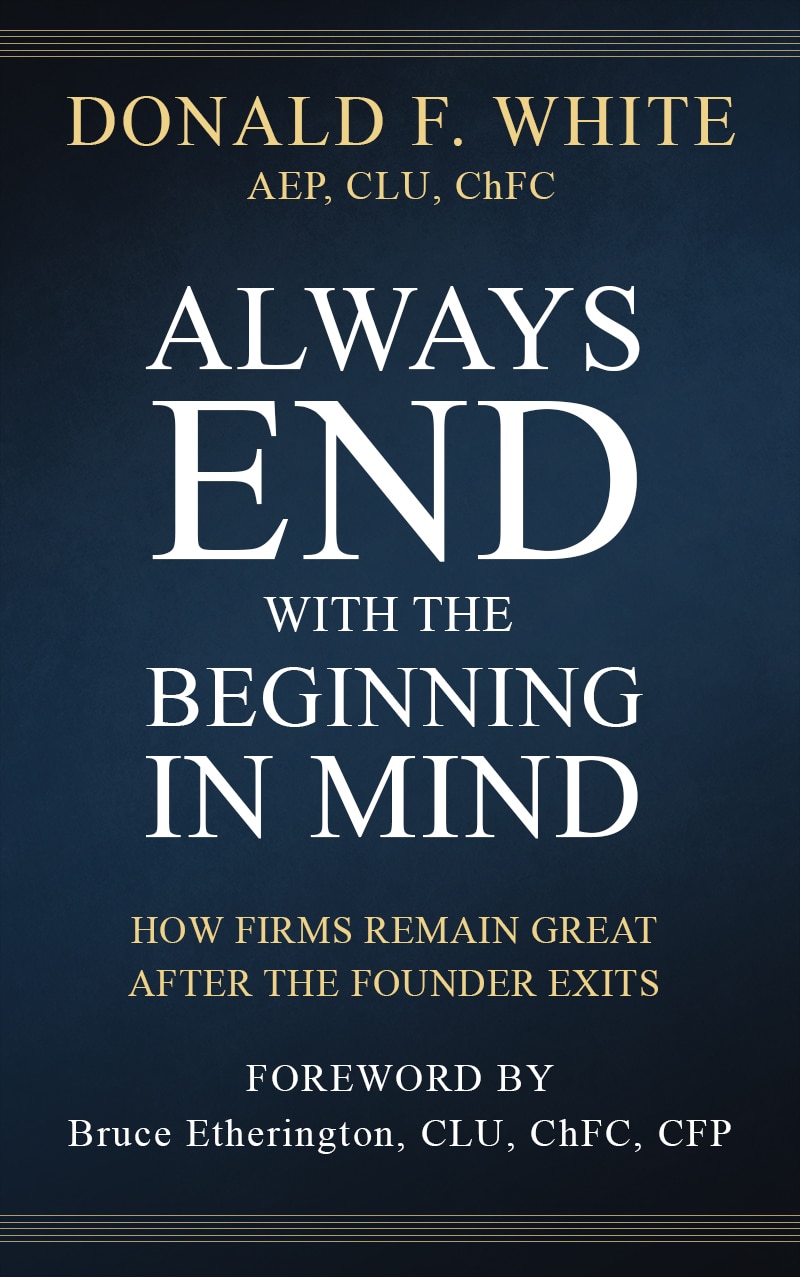 ALWAYS END WITH THE BEGINNING IN MIND
How Firms Remain Great After the Founder Exits
by Donald F. White
ISBN: 9781641463812
Publish Date: 03/16/2021
Download The Advance Audiobook
Download The Advance Ebook
---
The world likes to believe life is a series of endings. Some are good, others bad, but things always end. In the modern age, the movie ends, the television show ends, the book finishes with "the end," and we start to believe life is about endings.
However, endings are just new beginnings. One of the most important steps in business continuity is to remember to end with the beginning in mind.
While entrepreneurs often talk about succession planning, few ever accomplish the task. Most businesses or professional services firms have a cessation plan, leading to a business ceasing to exist. But very few have a plan that leads to their business both continuing and thriving after the founder exits: a succession plan.
In his book, Always End with the Beginning in Mind, Donald White takes you on his journey that resulted in a successful business continuation, leaving the founder of a business with the steps necessary for a succession plan to actually succeed.
Do not leave business continuity to fate! Read this book and discover the tools necessary to move from a reactive cessation plan to a proactive plan of succession.
---
Donald is the author of two audio series entitled "Legacy Planning" and "Building a Great Business". For over 20 years Don's daily radio broadcast, God's Money, was heard on WAY-FM in southeast Florida and on the Internet worldwide.
Donald received his Chartered Life Underwriter designation (CLU) in 1981, his Chartered Financial Consultant designation (ChFC) in 1986, and his Accredited Estate Planner designation (AEP) in 1994. Lastly, he became an Accredited Investment Fiduciary (AIF) in 2013. He is also a Past-Chairman of Love without Boundaries Board of Directors (www.lovewithoutboundaries.com), a non-profit organization assisting orphans and vulnerable children.
A world renowned communicator, Donald has spoken on virtually every corner of the globe, including several talks at the MDRT Annual Meeting, the keynote to the first-time attendees of the 2000 MDRT Annual Meeting and was a main platform speaker at the 2014 meeting in Toronto.
He is the proud father of twin adopted girls from China, Sydney and Reagan. His wife Grace, does all she can to keep him home with her and their kids, rather than riding his bicycles, golfing, rowing, boating, scuba diving or skiing in the Rockies.