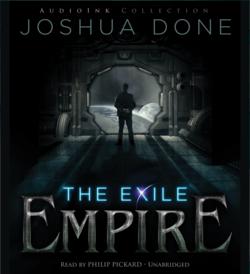 A few exemplary individuals must lead an army of exiles in a struggle to survive—and raise an empire from the ashes of civilization.
James Ursidae lost his family as a child, which broke his sanity and turned him into a vicious but brilliant warrior. Driven by both his technological genius and a desire for revenge, James finds himself on a journey of creative destruction. As he rises from prejudice, trauma, and indecision, he discovers a newfound desire to protect, and in the process he helps create a civilization based not only on the archetype of the hero but something true to human nature: the raw force of the antihero.
By combining a style similar to Orson Scott Card with the practical, down-to-earth feel of Jim Butcher, The Exile Empire throws listeners into a new world of real people, real machines, and real action—with some of the most epic warfare you could ask for in a science fiction novel.
If you enjoy the adventure and technology of science fiction but are tired of contrived drama and characters who act according to unrealistic desires, motivations, and morals, The Exile Empire is a must-listen. It is jam-packed with action, alien armadas, incalculably powerful warships, antimatter, plasma, and energy weapons.
JOSHUA DONE: Joshua Done was born in Long Beach, California, and grew up in the Snoqualmie Valley of Washington state. He recently finished his BA in political economy at Hillsdale College in Hillsdale, Michigan. During his last year of college, he developed the world of the Hyperion Empire and wrote his first novel, The Exile Empire. When not working, studying, or writing, Joshua is known to hang around local coffee shops and is a self-proclaimed connoisseur of all things caffeine.
$29.95