Self-help author Karri Bruntz is a #1 best author, with the new book release Hide & Seek: Discover the Awe of Being You
Author Karri Bruntz's book reached the #1 position on Amazon.com in the Motivational category in March 2015. Karri's book helps readers playfully discover their authentic self by following a step-by-step system which is cleverly woven into the framework of the popular childhood game of hide-and-seek.
Hide & Seek walks readers through ideas to empower their lives. Through Karri's personal MASTERY framework, readers have a guide to find their center point and to develop confidence in their authentic self.
Bryan Heathman, President of Made for Success Publishing, says: "Prior to the book release, Hide & Seek was ranked #534,703 in the Amazon Kindle best-seller ranking. As a result of the Snowball Effect Campaign, Karri's book hit #1 in the Motivational genre and #4 overall of all free Kindle ebooks on Amazon.com on March 20th, 2015. Karri's exceptional writing and system for helping people find their authentic-self have helped position Karri Bruntz as an up-and-comer in the professional speaking industry."
Here are 5-Star Reviews on Amazon.com about Hide & Seek:
"This book is a must-read!!! It focuses on the importance of discovering the 'awe' in each of us through a clever game of hide and seek."
"Hide & Seek is one of those rare books that, once I start reading, I know that I will absolutely love going through it. I found this to be one of those books that doesn't just give you a recipe of happiness, but really challenges you to break free from the bubble that has you where you currently are and encourages you to find yourself and enjoy yourself."
"So many of us have no idea who we really are. We may identify based on being a parent, on our occupation, or some other external circumstance; but really knowing your truth isn't something that everyone strives for. This is something that I have been taking a look at for quite some time, and I think that author Karri Bruntz has written one of the most unique guides on self-discovery that I have seen to date."
About Made for Success Publishing
Made for Success Publishing works with motivated authors worldwide to produce successful book-launch campaigns. By combining proven book-marketing strategies with enhanced retail promotion, Made for Success Publishing works with self-published authors on the launch of physical books, ebooks and audiobooks.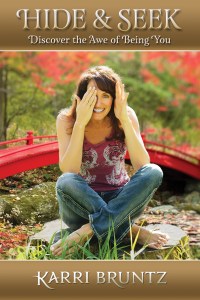 KARRI BRUNTZ is an author, speaker, financial advisor, and coach dedicated to living life authentically and to inspiring others to do the same. For nearly two decades, she has been coaching high-net-worth clients through the ups and downs of the stock market. Karri has hosted her own radio show in Seattle and organized large events centered on health, well-being, and personal growth. She continues to train and inspire teams in the corporate world and personally coaches women who want to learn how to use their natural talents to create confidence and success in their personal life and their career.
To contact Karri Bruntz for speaking engagements, visit www.KarriBruntz.com.
Learn more about Hide & Seek at Amazon.com.