Coauthors Tom Ziglar, Dr. Allan Colman and Rick Justus share philosophies on making a crazy impact in your life.
Made for Success Publishing announces the release of Crazy Impact, a book featuring 15 coauthors with diverse views on how to make your greatest impact. Authors ranging from CEOs to mayors share their perspectives on how we can create a society that is destined for greatness.
What does it mean to make a "crazy impact" on society? Through the testimonies of successful people from many walks of life, this book explores what it takes to leave a lasting legacy. In this book, readers will delve into the leadership philosophies of CEOs, authors, politicians, entrepreneurs, real estate investors, and professional speakers.
As a society, we look up to people who have had a visible impact on everyone around them. But what steps should you take if you want to leave an impact on people who follow you? The book contains inspiration for passionate and driven individuals who are committed to creating greatness.
What are other leaders saying about Crazy Impact?
"Crazy Impact is a must read, as we all attempt to find a new normal in our constantly changing world." -Dr. Sheila Murray Bethel, best-selling author
"I've learned that true Crazy Impact can only come if the effort is 'mission driven.' The most successful leader must feel a deep responsibility to fulfill the mission he/she has been uniquely qualified to accomplish…." -Captain Gerald Coffee, U.S. Navy (Ret.), Author and Speaker
"After spending years studying 1,000 ordinary people who achieved outrageous success, I understand the power of reaching millions." -Dan Waldschmidt, best-selling author
Bryan Heathman, President of Made for Success Publishing, says: "Crazy Impact was inspired by the lives of ordinary business people who possess a passion for impacting others. Fifteen leaders from all walks of life share their ideas and perspectives in this book anthology. Generations to come will benefit from the stories and life lessons in this book."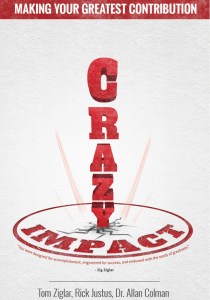 About Made for Success Publishing
Made for Success Publishing works with motivated authors worldwide to produce successful book-launch campaigns. By combining proven book-marketing strategies with enhanced retail promotion, Made for Success Publishing assists self-published authors with the launching of their physical books, ebooks and audiobooks.
Learn more about Crazy Impact at Amazon.com.
© 2015 Made for Success Publishing # 425-525-6480