Napoleon Hill, Zig Ziglar, Jim Rohn, Tony Robbins, Brendon Burchard. What do all these authors and speakers have in common? It's not what you might think.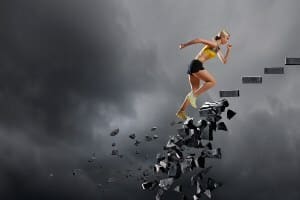 Every person on this list has either overcame tragedy, illness, or debt in order to build a legacy that will last for generations. Every person on this list has been faithful with the little things, building a foundation that won't easily be shaken by the weight of fame. Every person on this list is just like you and me: ordinary people, who have chosen to attempt extraordinary things.
You might think that the most successful people either came from a wealthy home, had prestigious schooling, or a perfect home life. But these people have proven this theory wrong—every single one had to work hard, find what they truly believed in, and do whatever it took to make a way for themselves. Let's take a look at how we can learn from these people and their legacy.
Overcoming
"Opportunity often comes disguised in the form of misfortune, or temporary defeat." Napoleon Hill
Napoleon Hill, most famously know for "Think and Grow Rich," knew well the sorrow of defeat that turned into the seed of success. After the passing of his mother, his father remarried and unknowingly gave Napoleon a great gift in disguise: his stepmother, Martha. She became a great source of wisdom, encouraging him that he was a intelligent young man that needed some guidance. She saw an author in him before he ever saw it himself, and encouraged him to use his overactive imagination to write. He went on to overcome more obstacles and became among the top 10 self-help authors of all time.
We are all undoubtedly familiar with motivational speaker Zig Ziglar, but did you know that he was pronounced dead nine days after birth? His grandmother prayed that he would not be taken from this earth, and he was revived in her arms. How amazing is it to know that a man who has had extraordinary success in his lifetime was not even expected to live past a few days old?
Pushing Past Rejection
Not only was Ziglar's life a miracle from the beginning, but later on would endure rejection from THIRTY different publishers before Penguin went on to publish his first book, See You at the Top. It went on to sell over 250,000 copies!
He has been known to talk about his mother as a woman who overcame adversity, and instilled the values in him that developed his character before he ever had a platform. I'm sure she had something to do with his resiliency and perseverance.
You Have the Tools
"You must take personal responsibility. You cannot change the circumstances, the seasons, or the wind, but you can change yourself. That is something you have charge of." Jim Rohn
Jim Rohn, motivational speaker, author and entrepreneur, dropped out of college and was bankrupt at the age of 25. He met a man named Earl Shoaff, who ended up personally coaching him and teaching him invaluable lessons about working hard and finding your true passions. He started as a department store clerk, knowing that he had to do SOMETHING in order to start crawling up the stairs of success. In six years, he overcame bankruptcy to become a millionaire, inspiring people everywhere that there was no such thing as "too far gone."
Rohn has influenced many, including Tony Robbins, author, entrepreneur and life coach. Robbins came from a poor family who struggled to get by and often couldn't celebrate Thanksgiving or Christmas. Despite his humble beginnings, he was inspired by Jim Rohn's motivational seminars, and started out by promoting his products. He learned that it doesn't matter where you came from or your financial situation—you always have resources to pull from and build upon. Tony has gone on to coach some of the world's most high-profile people, including Oprah Winfrey, Andre Agassi, Bill Clinton, Paul Tudor Jones, Serena Williams, Leonardo DiCaprio, Nelson Mandela, Princess Diana, and Mother Teresa.
Take Initiative
Stephen Covey, author, educator and speaker of 7 Habits fame was on track to a promising athletic career when he discovered a condition causing degeneration in his legs, leaving him to walk with crutches for the next few years. This didn't stop him, but only propelled him into his true calling: speaking and writing. He could have let his illness destroy him, but instead built a legacy that all of us are gleaning from today.
"The key is taking responsibility and initiative, deciding what your life is about and prioritizing your life around the most important things." Stephen Covey
Start Dreaming
Brendon Burchard, author and motivational speaker, got in a horrible car accident at the age of 19. He explains the revelation after the accident as three questions that entered his mind: "Did I live? Did I love? Did I matter?" He knew that he was given a second chance to live, and wanted to look back on his life one day and see a legacy that mattered. He spent the next decade researching psychology and leadership, and went on to become a #1 best-selling author, performance coach, speaker and online educator.
"Imagine at the end of your life you are standing before your Creator, and He asks: Did you use the time I gifted you each day to be a purposeful being? Did you follow your own path and make your time count? How faithfully did you tend to the dream I sowed in your soul?" Excerpt from The Motivation Manifesto
The stories of these authors and speakers are both inspiring and motivating—we all have the tools with which we can build a legacy, regardless of where we are at currently. Whether it is an illness, death of a loved one, debt or accident, there is always a way we can turn our losses into a legacy. Let's think back to the question we asked ourselves in the beginning of the series, and the challenge that Brendon Burchard's story proposed:
What is it that you want to leave behind? What do you want to be known for?
There's no better time to start dreaming, planning, and taking action in order to build your legacy.
Bryan Heathman is the President of Made for Success Publishing and the host of the Book Publishing Success podcast show. Bryan works with best-selling business authors, including NYT best-selling authors Chris Widener and Tom Hopkins, plus up-and-coming authors including Johnny Covey. Bryan is the author of Conversion Marketing, a marketing book on converting website visitors into buyers. Bryan's Fortune 500 experience includes Microsoft, Eastman Kodak and Xerox.