As Veteran's Day approaches, the Speaker Experts have developed their list of the 10 most Popular Military speakers of the past 30 years. Congratulations to Gerald Coffee for making this list and being named one of the top 10 military speakers of the past 30 years. He has written his riveting story of his capture and imprisonment as a POW in North Vietnam.
His book, Beyond Survival is a journey into the invincible human spirit that unites heart and mind in a compelling and unforgettable experience. Drawing from his seven years as a POW, Captain Coffee provides timeless lessons that apply to the physical, emotional, and ethical challenges of everyday life. Proving that leadership and creativity are possible in difficult and uncertain circumstances, Captain Coffee offers a message we can draw on in any trying situation. His story demonstrates that conviction must come from within, and in telling that story he touches the place inside of us where growth begins.
Beyond Survival is a positive statement about love and commitment in the midst of war and division. It contrasts the cold reality of war, degradation, and torture with the warmth of human connections, inner serenity, and kinship with all of life. It poignantly illustrates that to be stripped of everything that is familiar and by which we identify ourselves leaves us with only what unites us – our human identity. It conveys truths about relationships at every level – with ourselves, with others, with our country, and with our God.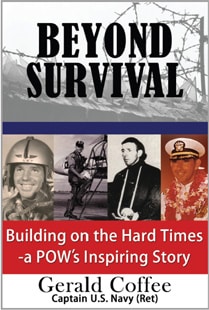 To See Captain Coffee's book Click Here