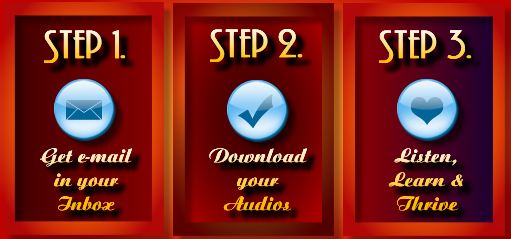 Download audio presentations to your desktop
Each month, you will be notified when new audio presentations are available for download to your computer. Listen to educational and entertaining audio anytime you want, anywhere and on any audio device. Learn to be your best from leading experts in Leadership, Sales, Personal Finance, Communications, Business, Your Health and Spirituality. Simply download the audio presentation to your computer and listen on your schedule whether that is while exercising, in the car, on the subway or from your desktop computer. For a preview of the quality audio content you will enjoy, click here for a free sample.


Audio Downloads
Receive downloads each month from dozens of world-class speakers, leaders, authors and motivators. For about one-third of what you would pay for an audio CD, you will be inspired by powerhouse communicators with full-length programs from speakers including Zig Ziglar, leadership expert John Maxwell, motivator Chris Widener, Dr. Sheila Murray Bethel, Brian Tracy sales expert and more. See the full list of downloads here in the 12-month subscription service.
How much does it cost? The monthly subscription for this most popular service is $19.95 per month plus any applicable tax per month. There are no additional charges, making this one of the world's best values for professional & personal development audio programs! Once you download your audio presentation, you are free to download to your PC, portable audio device or write to a CD.
Getting Started To get started with your subscription, simply click the Join & Save button anywhere on the website and sign-up. Once you are signed-up, browse the extensive selection of audio programs. Let our Content Editors supply a carefully selected subscription of high-quality audio programs right to your computer. Watch for a monthly email with complete instructions. It's that easy!
Cancel Anytime You can easily cancel your membership anytime, 24-hours per day online. There are no cancellation fees.
About Made for Success Since 1998, Made for Success has provided hundreds of thousands of people with motivational and personal development content. Founded by professional speaker, author and TV show host Chris Widener, Made for Success has grown into the world's largest resource of personal & professional audio programming.


Still have questions? Please see our Frequently Asked Questions or contact customer service via email by clicking here or call 1-425-922-4148.