Janelle Bruland Case Study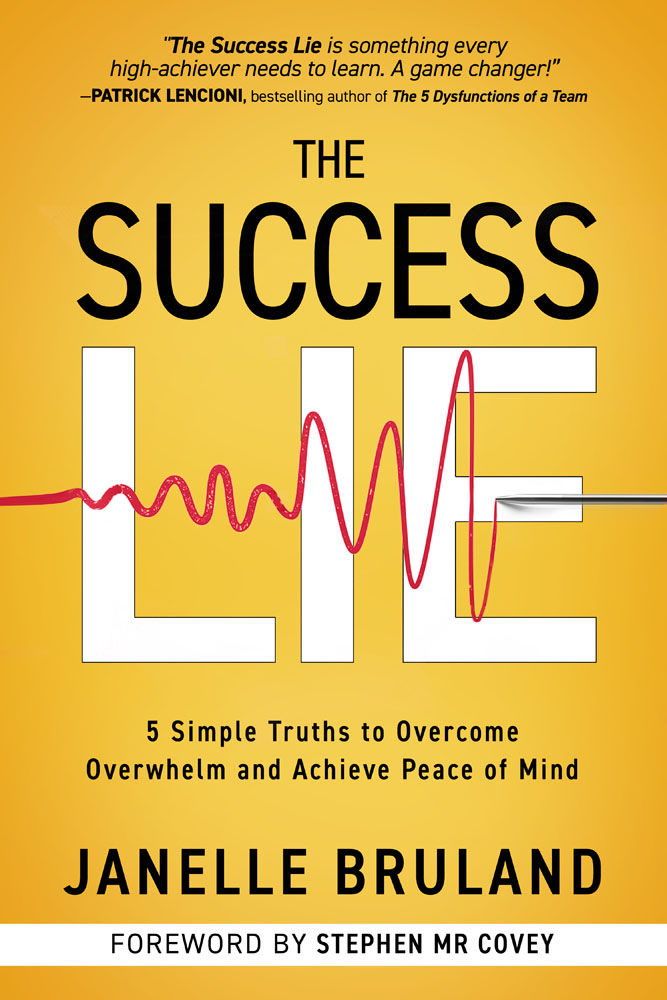 Why Janelle Wrote
"The Success Lie"
Janelle Bruland is the author of the best-seller "The Success Lie" and an example of a self-made success. She founded her company, MSNW, Inc, in her own garage and grew it into a large organization with 450 employees. Her work embodies talent, drive, and a sincere desire to leave the world a better place than when she found it.
After stepping down in her company to the role of chairman and appointing her daughter as the CEO, Janelle felt that she could make a difference in the lives of others who were "living on automatic" in the pursuit of their own success.
Throughout her life, Janelle had observed many talented people churning along and doing everything right, but simply becoming overwhelmed with their journey at-hand. Compelled by a desire to make a difference, Janelle wanted to reach as many people as possible with her message.
She had dreamed of writing a best-selling book and speaking internationally. These goals were achieved through the publishing of "The Success Lie."
---
The Journey of the Author
The beginning stages of Janelle's author journey were centered around sculpting her ideas into a compelling writing plan. Janelle hired a writing coach in Texas to help her get started writing the book, which took a year to produce.
By working hand-in-hand with an editor, Janelle was able to get her ideas perfectly distilled, and organize the flow of her narrative into a perfect presentation of the idas.
After editing, Janelle hired Made for Success to publish her book. In collaboration with Made for Success, the book title was re-positioned from "It's Your Choice" to "The Success Lie," in order to gain more traction in the competitive book marketplace.
To deliver an extra punch, Janelle also hired a marketing agency in New York as well as a publicist in Texas to promote the launch of her book, which quickly became an Amazon Best-Seller.
From start to finish, Janelle's journey was methodical and thoughtful. The creation of her book has shaped her own perceptions of what it means to communicate ideas, and was a great source of personal growth (to both her and her readers)
Selling thousands of books and being highlighted on iHeart Radio and other media networks, "The Success Lie" was a tremendous success.
The book became recognized as an Amazon #1 Best Seller, with endorsements by Mel Robbins, Dan Sullivan and others.
"The Success Lie" also earned a Living Now Gold Book Award, as well as media attention from Forbes, Inc Magazine, the Puget Sound Business Journal, and King5 TV (NBC).
Most importantly, the book has helped distill Janelle's wisdom and advice to a motivated audience of readers, as well as earned her numerous key public speaking opportunities.
While Janelle plans her next best-seller, she is taking a temporary break from writing to focus on mentoring those around her.
She has co-founded a Mastermind group for CEO's called Leadership Edge Mastermind and uses material from "The Success Lie" to shape her Mastermind curriculum.
---
What Was the Outcome of Janelle's Book Launch?
Amazon #1 Best Seller
Stephen MR Covey
Mel Robbins, Dan Sullivan, Hal Elrod, Patrick Lencioni
Barnes & Noble chainwide, Airport Gift Stores (Hudson News)
Highest Amazon Best Seller Rank
#603
58
4.8
Forbes, Inc Magazine, Puget Sound Business Journal, King5 TV (NBC)
Publishers Weekly, Foreword Reviews
Living Now Gold Book Award
---