Updated: Dec 1, 2018
I would be willing to bet that this is probably the first "how to" article you've read on how to become a legend. When we're speaking of legends, I define it as a person of influence (author, speaker, musician, etc.) who is talked about 100 years from now.
Recently I spent some time with a legend with the making, a man with an amazing story. His name is Robert Katende, who grew up in a Ugandan slum after being orphaned at the age of 7. However, he didn't allow his lack of resources to stop him from pursuing big dreams! He navigated life as a child to get an education by playing soccer, then proceeded to teach children in the very slum he vowed to escape how to play chess. One of his students, Phiona, became the Ugandan National Champion chess player at just 13 years old. Robert not only overcame his own adversity of raising himself with nothing to his name, but used his story to inspire and teach children life lessons through the game of chess. Now, his students have their own story to share with kids in their community.
But Robert's story doesn't stop there. His story is so deeply inspiring to all walks of life that Disney released a movie inspired from his work called Queen of Katwe. Disney found the inspiration for this story through a book, written by an author who was inspired by what he saw in Uganda. Robert went on to open a non-profit which provides impoverished children to a path out of poverty, catching the imagination of philanthropic billionaires.
It is amazing that through the story of Phiona, she has empowered millions of women of what can be accomplished. Raised in a society where it is atypical for a woman to simply ride a bike, Phiona's story demonstrated that women can master intellectual challenges such as chess.
Then, much to my delight, enters one of Robert's supporters. This supporter is a retired government worker who saw the movie and decided to express her legacy by supporting Robert's work to end the poverty cycle in Africa. One of her contributions was to encourage Robert to focus his energies on the non-profit, while ensuring that Robert's 3 girls would have their college expenses paid. What an amazing woman with a caring heart — knowing exactly how to give Robert peace-of-mind, so he could spend his days in the slums reaching children through teaching chess. We can see from Robert's life that true legacy will draw the attention of future legacies, and that support often comes out of nowhere.
This is a picture of Legacy. Will Robert's story pass the demands of time and still be discussed 100 years from now? Only time will tell.
So, what's the recipe, or the step-by-step instructions, for creating a lasting legacy?
1. It Starts with Your Why
The bigger your why, the better your odds of success. Ensure that your vision for the future is linked to serving others in a selfless way. Once you establish what your vision is, then it is time to spread the message!
2. Write a Book, and Write it Well
Why a book? Books are timeless, last for generations and are a proven mechanism for spreading ideas. Publish it confidently, and watch your vision catch fire.
3. Speak to Others
Do media appearances, give speeches and get into the public eye. Invite others to catch your vision. People are drawn to passion, authenticity, and vulnerability. Make sure you are being true to who you are, and you will find that soon, other like-minded individuals will start rallying with you to support your vision.
4. Ask People to Join Your Cause
We call this a Tribe. Your Tribe can have 3 members or 3,000… it all depends on your vision. Bottom line is, people want to serve a picture of the future that is bigger than themselves. You are empowered to lead this group, just like Robert. As you live your story, you will see your story impact lives around you.
5. Lead with Confidence
Lead regular meetings for your Tribe and give them the benefit of being in your inner circle. Partner with people that can reach people you wouldn't be able to reach by yourself. Give people a reason to become passionate about your cause, who you can train up to support their own vision.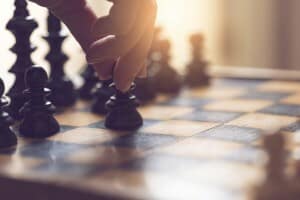 This is the stuff of legends. Using your life story to impact, empower and raise up the next generation to follow in your footsteps. May we all strive to leave a legacy through our lives. Think about this idea: Creating a ceiling through your life story, which serves as the floor for the next generation to stand on.