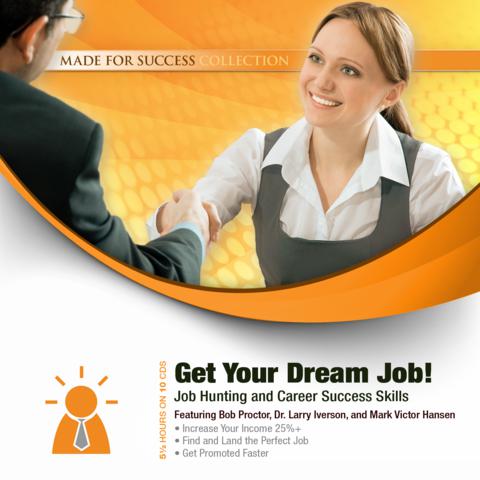 Get Your Dream Job:  Job Hunting and Career Success Skills featuring Bob Proctor, Connie Podesta, Mark Victor Hansen & more
Find and land that perfect job!
What is it about the top percentile of high earners in business, and how can you "join the club"? Join job and career experts as they share their experience and wisdom on how to find the perfect job and get promoted faster. Explore how to approach the job market to quickly find those hard-to-find jobs, then approach these opportunities in such a way that your job application stands out from the competition.
When it comes to interviewing, use proven relaxation and visualization techniques to come across natural, confident, and professional. Even if you are the underdog without a college degree or MBA, learn how to win jobs over people with better qualifications. Once you land your dream job, discover the philosophy of advancement to accelerate your career success, earning raises and making you the person your company fights to keep.
Contents include the following 11 CDs by hand-picked authors and expert speakers:
1.    SuperCompetent: The Six Keys to Perform at Your Productive Best by Laura Stack
2.    Job Hunting Essentials: Overcome the 3 Mindsets That Will Block Your Success! by Dr. Larry Iverson
3.    Rip-Roaring Job Wealth: Succeeding in Any Economy by Mark Victor Hansen
4.    How to Get the Job You Always Wanted: 30 Minute Success Series by Brad Worthley
5.    Running Toward Your Next Job by Jennifer Sedlock
6.    Job Interview Success System: Relax and Communicate Your Value to Prospective Employers by Lorraine Howell
7.    Success Without a College Degree: Shattering the Myth by John Murphy
8.    How to Be a Person Companies Fight to Keep by Connie Podesta
9.    A Sense of Urgency Creates Great Work by Bob Proctor
10.    Ridiculous Bliss at Work by Matthew Ferry
11.    Crafting Competitive Resumes Without a College Degree by John Murphy
About the Authors:
MARK VICTOR HANSEN is most recognized as a co-founder of the renowned 'Chicken Soup for the Soul' series. He is a bestselling author and accomplished entrepreneur, and he has been inducted into the Sales & Marketing Executive International Hall of Fame.
DR. LARRY IVERSON – For nearly thirty years Dr. Iverson has educated, motivated and entertained audiences. From his work with Olympic athletes to Fortune 500 conferences, he delivers persuasion and communication strategies you can apply right now.
BRAD WORTHLY is an internationally acclaimed leadership and customer service expert who has trained over a million people in a wide range of industries throughout the world in the last 19 years. He has authored two books and produced numerous training videos. His client list contains some of the largest and most prestigious corporations in the world from a diverse range of industries.
JENNIFER SEDLOCK is an inspiring keynote speaker who moves audiences to action. She gets to the heart of the issues while laser focused on helping people achieve their desired results. With a bachelors degree in Business Administration from UC Berkeley, and a master's degree in Organization Development from USF, Sedlock's resume includes management and corporate training positions prior to speaking across the country on communication, leadership, and teamwork. As a Myer's-Briggs® trainer and women's event speaker her company Jennifer Speaks! is helping thousands of people make choices and changes that will impact the rest of their lives.
LORRAINE HOWELL built her expertise as a communications expert and author as a television news and talk show producer. She coaches top executives and professionals on how to be more effective when speaking to the media or making public presentations. Lorraine is an award winning specialist in message development, presentation skills, media interview skills, and crisis communications. Lorraine has coached the five finalists in the Forbes.com national Boost Your Business Contest and regularly speaks on media relations and presentation skills.
JOHN MURPHY, author of "Success Without a College Degree," went from sweeping floors in a computer lab to Director of Sales and Support for an international software company.  He's dedicated his career to helping those who lack a four-year college degree to get jobs, make more money, and achieve success.
CONNIE PODESTA – Psychologist, consultant, and comedienne, this noted author and radio host shares her unique perspective on business and industry.
BOB PROCTOR has focused his entire agenda around helping people create lush lives of prosperity, rewarding relationships and spiritual awareness. After rising to the position of Vice President of Sales at Nightingale-Conant, he established his own seminar company. Bob Proctor now travels the globe, teaching thousands of people how to believe in and act upon the greatness of their own minds.
$34.95