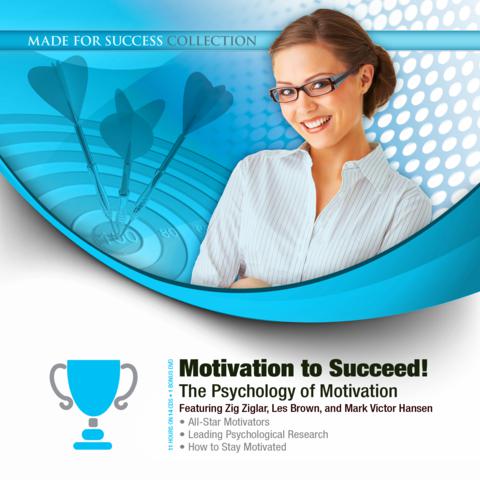 The Psychology of Motivation featuring Zig Ziglar, Les Brown and Mark Victor Hansen
Have you ever wanted to find the perfect motivational speech exactly when you need it most? Look no further! Enjoy the world's top motivational speakers in this multi-disc collection to fill your library with inspirational stories from master storytellers like Zig Ziglar, Mark Victor Hansen, and Les Brown. Learn what drives high achievers like Michael Jordan to become the world's best. Discover the tools you need to get motivated, even when you don't feel like it. Delve into the human psyche with psychologist Dr. Larry Iverson using the latest Mayo Clinic brain research and understand what role motivation plays inside your mind to achieve exceptional goals. You'll learn:
1. How to motivate yourself and others
2. The psychology of achievement
3. How to stay positive even in negative circumstances
4. Proven techniques to stay motivated
5. How to maintain self-discipline to stay on-track with your goals
Contents include:
Mastering Positive Motivation: How to Motivate Yourself and Others by Mark Sanborn
5 Steps to Peak Performance: The Secret to Overcoming Limiting Beliefs by Dr. Larry Iverson
Becoming Self-Disciplined: Make Yourself Do What You Should Do, Even When You Don't Feel Like It by Laura Stack
How to Stay Positive and Focused in Uncertain Times by Sarita Maybin
Think It, Plan It, Do It! by Jennifer Sedlock
It's Possible by Les Brown
The Key to Excellence by Charley Tremendous Jones
How to Stay Motivated Parts 1-6: Changing the Picture by Zig Ziglar
Rip-Roaring Wealth by Mark Victor Hansen
Featured speakers:
ZIG ZIGLAR, world renowned author and speaker, has an appeal that transcends barriers of age, culture and occupation. He has written twenty-nine celebrated books on personal growth, leadership, sales, faith, family, and success. Ten have been on the bestseller lists.
MARK VICTOR HANSEN is most recognized as a co-founder of the renowned Chicken Soup for the Soul series. He is a bestselling author and accomplished entrepreneur, and he has been inducted into the Sales & Marketing Executive International Hall of Fame.
$49.95